For businesses, "off-the-peg" solutions are not often viable. Especially in the case of financial management where individual requirements are so varied. A regional company engages in different kinds of financial transactions to a major global market player, for instance. With SFirm, the leading multi-bank-enabled electronic banking software, LBBW gives you a solution to suit your requirements – whether you are a regional or global entity. Thanks to its modular structure, adaptable modern interface and simple expandability, SFirm allows you to enjoy the maximum degree of flexibility. Watch your problems of managing multiple branches, cost centers and accounts become a thing of the past.
SFirm has the right package to suit every requirement
Whether you are an international corporation, SME, tradesperson or government agency – SFirm is the ideal solution for companies and institutions of every size.
Maximum security and flexibility
SFirm meets the highest security requirements to ensure that your banking transactions are always secure. Its special protective technology certified by TÜV enables you to work securely – even on virus-infected computers. Open interfaces allow you to integrate upstream and downstream systems. You can use the EBICS communication channel for data transmission. SFirm can be installed on a single workstation or in a network. Of course, our specialists are there to give you a hand if you need it.
Banking to go with LBBW's Finance Cockpit app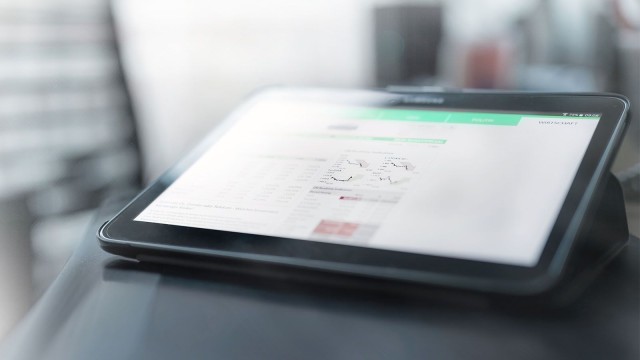 You can also use SFirm on your smartphone or tablet, making your banking transactions even more straightforward. The Finance Cockpit app gives you direct access to your balances, revenues and pending payments, enabling you to authorize or reject payment mandates via EBICS and inform you about outstanding orders. Like your SFirm, the Finance Cockpit is compatible with many banks and can thus map many different institutions.
Download the Finance Cockpit app:
Give it a try: SFirm 4 demo version
SFirm is impressively flexible and easy to use. Download the SFirm 4 demo version and try it for yourself – free for 60 days. The self-installing file also enables you to update an existing SFirm installation (full version) to version 4 or repair an existing SFirm 4 version that you have installed. Now that you have tried the demo version, would you like to have it permanently? To place your order for a full version that is precisely adapted to your requirements, please contact our electronic banking hotline or speak to your customer adviser.
Do you have questions about SFirm or are you interested in obtaining a license?
Then get in touch:
Fachberatung Zahlungsverkehr
Landesbank Baden-Württemberg
Am Hauptbahnhof 2
70173 Stuttgart
Phone +49 711 127 46565
cash-management@lbbw.de