Vietnam needs energy to keep on growing, which is why the country is relying on wind power. According to the Ministry of Industry and Trade of Vietnam (MOIT), wind power is expected to contribute around 7% to power generation in 2030. Currently, its share is less than 1%. But things are changing rapidly thanks to initiatives like the Huong Linh 1 wind farm. The farm's turbines are built by Vestas Wind Systems, a Danish wind turbine specialist. The financing solution consisted largely of a buyer's credit granted to the Vietnamese project developer to secure the supply of turbines and associated equipment. The credit was for around EUR 21m.
LBBW: Pioneering work in structuring the credit
Buyer's credits are widely used for exporting equipment to high-risk markets. In many developing and emerging countries, they are the only thing that makes it possible to conclude a business transaction at all. The bank issues foreign buyers credit that they use to pay for the equipment. A credit insurer (Export Credit Agency, ECA) provides 95% protection against defaults related to political and economic circumstances. Such credits are often arranged by the exporters or their banks. In this way, they help their foreign customers to find suitable long-term financing solutions, which are often lacking in the less developed financial markets in these countries.

LBBW has made a name for itself in this area.
LBBW has some experience in export finance. In the case of Huong Linh 1, the challenge was to structure a bank-guaranteed buyer's credit in accordance with international documentation standards, while also taking local conditions into account. On the one hand, the credit had to be ECA-compliant; in other words, compliant with general (OECD consensus) and specific requirements of the export credit insurer. On the other hand, a Vietnamese bank had to stand as guarantor because Vietnamese power supply agreements are not considered a basis for bank support. A buyer's credit like this requires management of a number of special features and extensive contract negotiations, while the exporter and borrower both expect everything to run as smoothly as possible. The process was successful in Vietnam. "LBBW has made a name for itself in this area," says Stefan Rethmeier, Specialist Advisor for Export Finance Asia/Pacific at LBBW in Singapore. "We have done pioneering work here," he says. As soon as the guarantee was available from the local bank, Denmark's state-owned credit insurance company, EKF, secured 95% of the credit volume against political and economic risks.
Huong Linh 1 is not far from the old imperial city of Hue, fewer than 20 kilometers from the coast. Since the end of 2019, 15 wind turbines have been generating up to 33 megawatts of electricity here – enough to supply 27,500 households with green energy. The credit agreement with the Vietnamese investor Tan Hoan Cau was signed in October 2018, and the first payment was made in March 2019. The last of the 15 Vestas turbines was connected to the grid at the end of 2019.
A milestone for the wind industry
"The financing of Huong Linh 1 was groundbreaking, and set a milestone for the wind energy industry in Vietnam," says Valeria Krepis, contact person for Export Finance at LBBW in Stuttgart. Other industries are also likely to benefit in the medium term, as the structure is transferable. However, the breakthrough with Huong Linh 1 will initially generate further orders in the wind industry. Before the end of 2019, LBBW concluded financing for another wind farm and, at the same time, secured new business in the triple-digit megawatt range.

The financing of Huong Linh 1 was groundbreaking for the wind energy industry in Vietnam.
Vietnam's attractive feed-in tariffs and geographical potential are currently leading to a real investment boom. Specialist Advisor Krepis says, "We are pleased to continue supporting the Vietnamese government in achieving its climate targets and to further strengthen our position as a competent partner for export finance."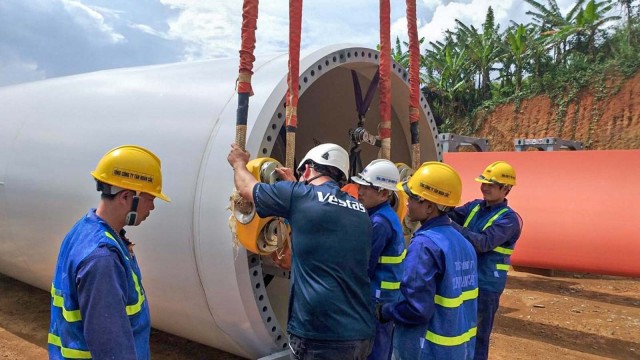 Wind power in Vietnam
Vietnam used to rely mainly on hydroelectric, coal and gas power plants to cover its rapidly growing demand for electricity. With the potential of hydropower now largely exhausted and Vietnam wanting to avoid any dependence on coal imports, wind power has been incentivized since 2016. In 2019 alone, installed capacity rose from around 150 to over 300 megawatts; and by March 2020 there were already eleven wind farms in operation with a total capacity of 377 megawatts. The Vietnamese government plans to generate around 6,000 megawatts of electricity from wind power as early as in 2025, and by 2030 the figure is expected to be as much as 10,000 megawatts – more than 30 times as much as in 2019.
Vietnam's coastline is around 3,500 kilometers long. Especially in Central Vietnam (where Huong Linh 1 is located) and South Vietnam, the wind can reach forces of around six meters per second (roughly 25 km/h), causing a stiff breeze on the North Sea coast. The wind in Vietnam can reach this speed at an altitude of just 65 meters, meaning that the wind turbines do not have to be touching the sky to achieve optimum performance.
of electricity is currently being produced by wind turbines in Vietnam. The target figure is 10,000 megawatts by 2030.
Do you have any questions?
Contact us!