ISS ESG
LBBW achieves an overall grade of C+ on a scale of A+ to D. LBBW is ranked third out of 277 institutions analyzed at the international level in the "Financials/Public & Regional Bank" sector. In the German competition, LBBW is ranked second (as of November 2020). With these results, LBBW is one of the industry leaders and achieved the highest transparency level of ISS ESG (80-100%).
Sustainalytics
In Sustainalytics' sustainability rating up-date, LBBW scores 82 out of 100 points. This results in 19th place out of 362 internationally rated financial institutions in the banking sector. Within the comparison group, LBBW is ranked first (as of July 2020).
IMUG
IMUG Rating gives LBBW an overall grade of "positive" (BB). This puts it in first place out of the 10 banks rated in the German state banks and savings banks sector. In the Europe-wide comparison within the Landesbank sector, LBBW achieves 2nd place. In addition, LBBW was rated "very positive" (A) as an issuer of public covered bonds and "positive" (BBB) as an issuer of mortgage-backed covered bonds. IMUG is one of the leading sustainability rating agencies in Germany and sees itself as a specialist in customized sustainability research (as of March 2020).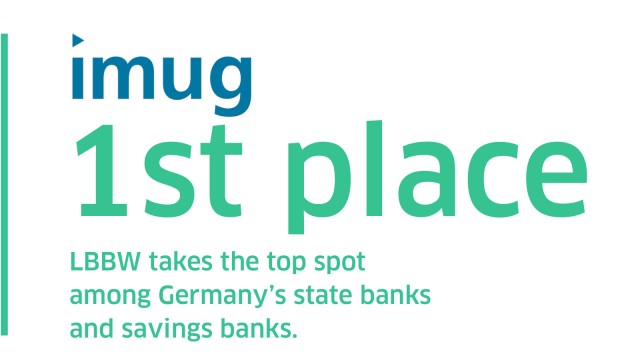 MSCI ESG Research
In 2020, Landesbank Baden-Wuerttemberg received a rating of AA (on a scale of AAA-CCC) in the MSCI ESG Ratings assessment (as of August 2020).
Do you have questions? Contact us!
Heiko Schultze
Head of Sustainability and Environment Social Governance (ESG)
Heiko.Schultze@LBBW.de
Phone: 0711 124-78026