In spring 2020, the coronavirus needed only a few weeks to trigger the worst recession since the Second World War. 2021 will be the year of the countermovement. "The economy is sometimes like a rubber ball: the harder it falls, the higher it bounces," explains LBBW Chief Economist Uwe Burkert. "We expect a strong rebound next year, now that humanity has learned how to cope with the pandemic. Moreover, great progress has been made in the development of coronavirus vaccines."
The year ahead will see us return to growth and prosperity.
Global economy on brink of strong upturn
The availability of effective vaccines will be a crucial step back to normality, but there is still a long way to go according to LBBW Research. Global production might not reach the pre-coronavirus level until the second half of the new year, in Europe probably not until 2022.
Total economic output (PIB) or production
Year-on-year change in 2021
Source: LBBW
The consequences of the coronavirus pandemic will be felt for years, for example in central banks' monetary policy. For the time being, even an excellent economic recovery will not change the fact that the leading central banks will be forced to follow an extremely expansionary monetary policy, say the LBBW analysts. The new monetary policy strategy that the European Central Bank wants to introduce could even make the barriers to a departure from the negative interest rate policy yet higher. Although economists do not expect any further key interest rate cuts, "the European Central Bank is expected to step up its ten-figure bond buying program again and to extend it to at least the end of 2021." Before the first key interest rate increase, there will be a lengthy phase of extensive communication measures to give the markets enough time to digest this new forward guidance.
Only real assets still promise returns
In this negative interest rate environment, interest-bearing investments will not be worthwhile again for some time. This situation for investors has even been given its own name: TINA, standing for There Is No Alternative. Investors seeking returns have to rethink their attitudes to nearly every asset class. Only real assets provide protection against dwindling interest rates and capital loss. To LBBW Research, this means investments in real, existing tangible assets like companies, property or raw materials such as gold.
Nominal and real assets
All assets can be classified as either nominal or real. Nominal assets have a constant and unchanging value.
Examples of nominal assets are:
Cash
Bank balances
Bonds/debentures
In contrast, real assets are valued at the time of purchase or sale; their price changes over time.
Examples of real assets are:
Company shares (stocks)
Real estate
Gold
A brief explanation: The nominal value of a 10 euro banknote always remains EUR 10. However, its purchasing power can fall due to price increases. Therefore, EUR 10 today buys you less of a real asset, such as a packet of screws, than it did in 2010. Conversely, today you would not get the price paid for the screws purchased back then because, unused, they are discolored or rusty. In contrast, the value of the banknote would be unchanged at EUR 10.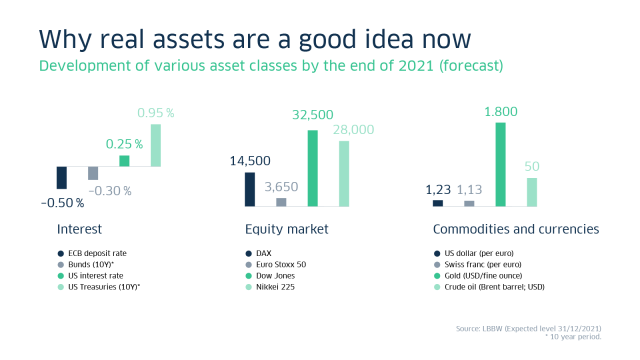 In the analysts' opinion, there is therefore no alternative to equities. Because the higher investment risk compared with government and corporate bonds is currently compensated well above average, they are considered more attractive.
Despite high valuations on the stock market, we see further potential for 2021.
Concrete and gold score highly
Real estate is in high demand as another real asset. Regular rental income is similar to a coupon payment from a long-term bond. Prices for residential properties in particular ought to continue rising in the years to come, because investors are increasingly moving to the real estate market due to the sharp decline in bond yields in recent years. Of course, this is possible only for investors who plan in the long term and can live with real estate's low liquidity.
Analysts also see glowing prospects for gold. While bars and coins do not yield continuous income, the prevailing low interest rate environment has immensely reduced the opportunity costs of investing in gold. Historically, it is therefore extremely attractive to hold gold even though the latest gold boom overshot the mark somewhat. "Temporary setbacks can never be ruled out, but in the medium term investors with interest-bearing investments are likely to draw the short straw," concludes LBBW Research.